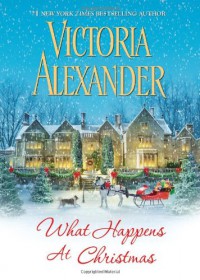 "In 1886 Dec 18-25 & after. Camille Lady Lydingham wants a Prince, Nikolai Pruzinsky of Greater Avalonia. To give him a traditional English Christmas, she hires actors as family, servants. Suddenly Grayson Elliott returns after making his fortune in America. Eleven years ago, he declared love the day before her marriage to another then vanished. Now he wants her back."


Title: What Happens At Christmas By: Victoria Alexander Series: Millworth Manor # 1
Reviewed By: Arlena Dean Rating: 5

Review:

"What Happens At Christmas" By: Victoria Alexander

What I liked about the novel.....

This was one of those fun reads that will have you laughing so hard pretty near all the way through the read. "What Happens At Christmas" was rather a long read, however, it was one read that you will find it hard to put down definitely being of a read of second chances for not only Camille and Grayson, Beryl and her husband but also the twins parents and sister. What will happen when Camille's long lost love...Grayson comes back into the picture after eleven years? This author really knows how to present a storyline that will keep you on the edge of your seat turning the pages until the end as we are given a setting with the lives of the characters....all of them even the actor...to the events that will give one twist and turns in this unfolding chaotic story. Will this family be able to forge through their past and find forgiveness and be able to move on to a future? This is where you will have to read it to see how this author will give it to the reader. "What Happens at Christmas" will be definitely one of those festive reads where some things aren't what they may seem to be. Be ready for a good story of loss love, drama and yes even deception. Would I recommend "What Happens at Christmas?" YES!