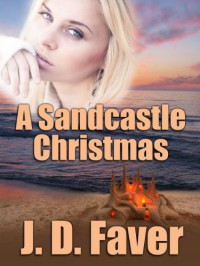 Title: A Sandcastle Christmas
Author: J.D. Faver
Published: J.D.F.
Reviewed By: Arlena Dean
Genre: Romance
Tags: Contemporary, Romantic Suspense, + Seasonal / Holiday, + Extra Long
Rating: 5
Review:

"A Sandcastle Christmas" by J.D.Faver was one very good read and the first read for me by this author. I will say it will not be the last because I do plan on checking out more from this author's series. I found that "A Sandcastle Christmas" was a novel that had a little bit of it all from "infant abandoned in the a manger scene at church, it sets off a string of events including murder, a stalker, a lot of seasonal tension and heartwarming happenings for the gang" that will keep you turning the pages until the end. The characters were all so well developed, colorful, likable and so very intriguing. Many of the characters from Chloe and Rafael, Darla and Mike, Cassie and Javier and Sky, Zach and may other secondary characters will give the reader such a very intriguing read. This author has brought all of these characters together during this special time of the year with each one
bringing 'their own set of troubles with them.' The big question is will this sheriff will be able to solve these mysteries with the help of the community during this holiday season? At this time I will say you must pick up "The Sandcastle Christmas" to see how this author will bring it all out to the reader.

This novel is from 'The Edge of Texas series' and even though this novel can be a stand alone read I am going to suggest that the reader can get a better read on what has happened earlier by reading the series. Be ready for a Christmas story with some mystery though into this warm beautiful storyline of romance and "A Sandcastle Christmas" will give you a very good amazing read that I would definitely recommend to you as a amazing good read.