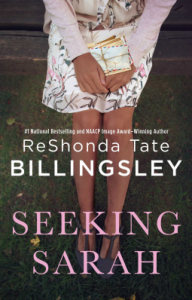 Author: ReShonda Tate Billingsley
"Seeking Sarah" by ReShonda Tate
My Thoughts...
I loved this story "Seeking Sarah" that was "about finding something you so desperately crave, and losing yourself in the process."
What a good read this story that was conveyed  so well to the readers.  I felt so very sorry for Brooke because I found that she really didn't know how to go about getting what she wanted and that was the love of her mom.  Therefore Brooke went to much from secrets, loss, deception, lies, even revenge and heartbreak that caused so much more than one would ever want to happen.  End the end will Brooke finally get all she wants ...the love of her mother and a husband?  Or will she have to settle for ... well, I will stop here and just say you will have to pick up "Seeking Sarah" to see how this story will all come out.  Be prepared for some twist and turns as the secrets come out and a ending that will leave one shaking their heads and saying wow!  You will definitely be left seeing "how important a parent's love is and how it can not only shape a child's life but also their future."
Thank you to Net Gallery for the read.